Successful Content
What's Inappropriate?
Remember that posts represent your department and the University of Virginia, not your personal views. You should never share or create a politically-charged post, image, video or meme. You also shouldn't:
· Share posts from politicians unless it is directly related to your department (e.g., a state senator visiting telemedicine)
· Endorse or refute a political position, even if related to healthcare
Occasionally, UVA Today or the Health System online newsroom will publish research that addresses political issues, such as the Affordable Care Act's impact on cancer screenings. We encourage you to share these posts, but stick to the information in the story and avoid inserting opinion. If you're unsure, consider sharing directly from the Health System or UVA's official social media accounts.
Additionally, content should reflect our ASPIRE values. Avoid jokes or comments that are likely to offend some people. Remember that regardless of your intended audience, your department's account is public, and patients and the general public may find it and share it.
Successful Content
Think about the brands and media outlets you follow on social media. Their updates probably look like this: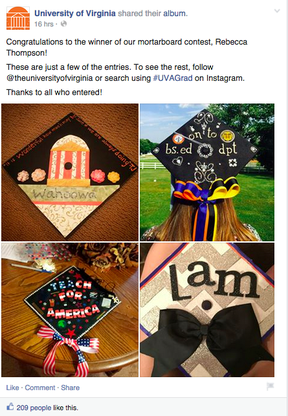 Most people get on social media to interact with friends and consume interesting content; brands that use their accounts solely to promote their products and services don't do well. The more you give your followers what they want, the more engagement and followers you'll get. That means you'll have a larger, more engaged audience when you want to tell them about your new service or event.
For example, simply posting "Flu shots are in! Make an appointment to get yours!" probably won't do well for a few reasons:
It's an obvious attempt to sell services.
It's not very interesting.
It's text-only, which doesn't do well with the timeline algorithm (more about that below).
Instead, consider:
A link to a reputable article about flu shot myths and facts
A photo of your clinic's shipment of shots, or a team member getting a shot, with a fact or trivia about flu shots.
Content Ideas
Take advantage of trending topics or major health stories, when appropriate. Search for hashtags that related to your content, especially on Twitter. #ThrowbackThursday/#tbt (Historical Collections is a great resource for this), #MyHospital, #Cville, #FitFridays and #UVA are just a few you can use to get a broader reach for your own content.
Check out the Healthcare Hashtag Project for more hashtag ideas.
More content possibilities:
Stories from UVA Health System publications
News coverage of UVA and the Health System
Photos and short introductions of team members — this could be a regular feature, like "Medical Monday"
Photos and video of team members at events like the Health System Week picnic or a fundraising walk
Industry news, when relevant to your audience
Upcoming event information
Facebook's Timeline Algorithm
Unlike most social sites, Facebook doesn't show you updates in chronological order. Rather, it shows you what it thinks you'll like the most. So if you haven't interacted with the last 10 updates from UVA Health System, Facebook's less likely to show you the next one. You can change this setting on your timeline, but few do.
The bottom line for most brands is that most posts will only reach one to 10 percent of their fans. Unless of course, you're willing to pay Facebook to promote them.
Facebook also looks at the type of content you're sharing. Its algorithm changes frequently, but as of January 2017, these are the kinds of posts more likely to do well:
Posts with lots of comments and likes already
Posts that receive a lot of comments and likes in a short amount of time
Video uploaded directly to Facebook (not YouTube links), including live video
Posts that your friends have interacted with
Posts that reference a trending topic
Links, especially ones that have not been posted before
Original images
Posts unlikely to do well include:
Text only status updates — especially long ones
Posts that directly ask the user to take an action with words like "click" or "like"
Sharing links in photo captions instead of in the link format
Links on Facebook
Take advantage of Facebook's ability to edit posts and display larger photos with links. When you copy and paste a link into Facebook, it should automatically embed a photo from your page. However, if the photos are too small, they won't display above the article like the below story about a medical student.
The good news is, Facebook will give you the option to upload another photo. If you have a larger version of the photo or can get one off the website (often, clicking on a photo will give you a larger version), save it to your hard drive and upload.
You can also edit the link's title and description by clicking on them within the post.
Occasionally, links will display poorly even when your page has large photos and a good titles. If you can't edit it and upload a new photo, try closing Facebook and coming back or using a different browser.
Links that display like this: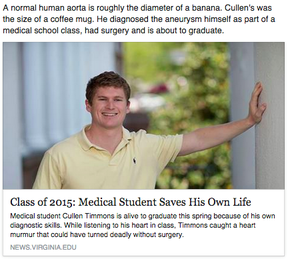 will typically do better than this: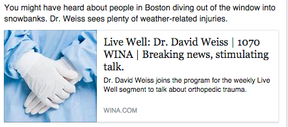 or this:


Facebook Events
When promoting events, use the Events tool (available from your page under the "more" button) to schedule. This feature allows users to RSVP, and they'll get reminders about the event. As with everything on Facebook, a nice photo helps.
On the other hand, event flyers don't work too well. They're tough to read, especially on phones and tablets. Take five minutes and turn your flyer into a Facebook event.
Scheduling Posts
There's no need to post at the same time every day, especially if your followers aren't online then. Facebook's Insights tool can show you the best times for reaching your followers.
Use Facebook's "schedule post" tool: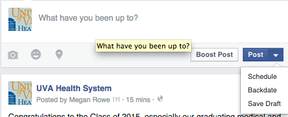 With Twitter, you'll need to use a posting tool like Tweetdeck or Hootsuite, which are available for free, to schedule tweets.