Franklin Gothic
Franklin Gothic is a simple and versatile sans serif font with a modern feel. This family of fonts is the most flexible system available for use in the UVA brand. All weights and faces are available for use, but should be used with discretion where appropriate. Franklin Gothic is the primary typeface for both headlines and body copy in marketing materials.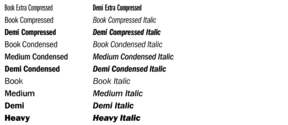 Bodoni
[2023: Bodoni is a deprecated brand element - should not be used on newly designed collateral]
Bodoni is a secondary font in the UVA brand. Bodoni Poster Italic is most frequently used as it provides a bold yet studious feel. A more designed font, the typefaces within the Demi Compressed Italic Bodoni family are not intended to be used as primary fonts, but as accent design elements in select creative applications.