UVA Health
Fonts
---
Franklin Gothic

Franklin Gothic is a simple and versatile sans serif font with a modern feel. This family of fonts is the most flexible system available for use in the UVA brand. All weights and faces are available for use but should be used with discretion where appropriate. Franklin Gothic is the primary typeface for both headlines and body copy in marketing materials.
Libre Franklin

In digital applications, choose Libre Franklin as an alternative to Franklin Gothic. Libre Franklin is optimized for use in digital contexts and is available as a free download from Google Fonts at fonts.google.com.
Libre Caslon Text

A classic serif typeface, Libre Caslon Text works well in digital and printed materials. Limit use of Libre Caslon to pull quotes and call-outs in applications where a more refined, traditional typeface would amplify the impact of a piece of collateral. Libre Caslon Text is available as a free download from Google Fonts at fonts.google.com.
Usage
Together, our typography can be used to create clear and compelling messaging.
Please note that Franklin/Libre Franklin should always be the dominant typeface in a given layout, with Caslon used to add emphasis to pull quotes or similar text, if needed.

Headlines should be in UVA blue and body copy should be black.
UVA Health Children's
Fonts
---
Belizio

Belizio is the approved font family for all UVA Health Children's communications. In most cases, bold or medium weights should be used for headlines, while the regular weight is normally used for subheads and body copy. Italic can be used to reference publications and book titles.
The consistent use of Belizio will help establish UVA Health Children's typography as a recognizable brand identity element while reinforcing a unified appearance throughout our communication materials.
Georgia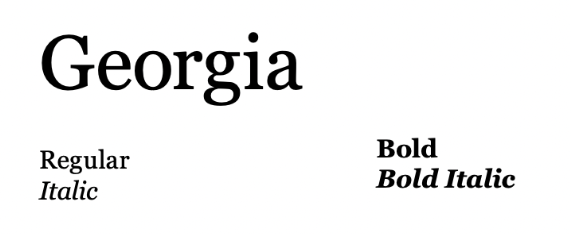 Georgia may be used as a substitute for Belizio in non-design programs or applications such as Microsoft Word and Powerpoint. Georgia is the preferred text font for use in office & form templates.
Usage
Type should always be in UVA Health Children's medium blue, gray or white in 4-color applications.