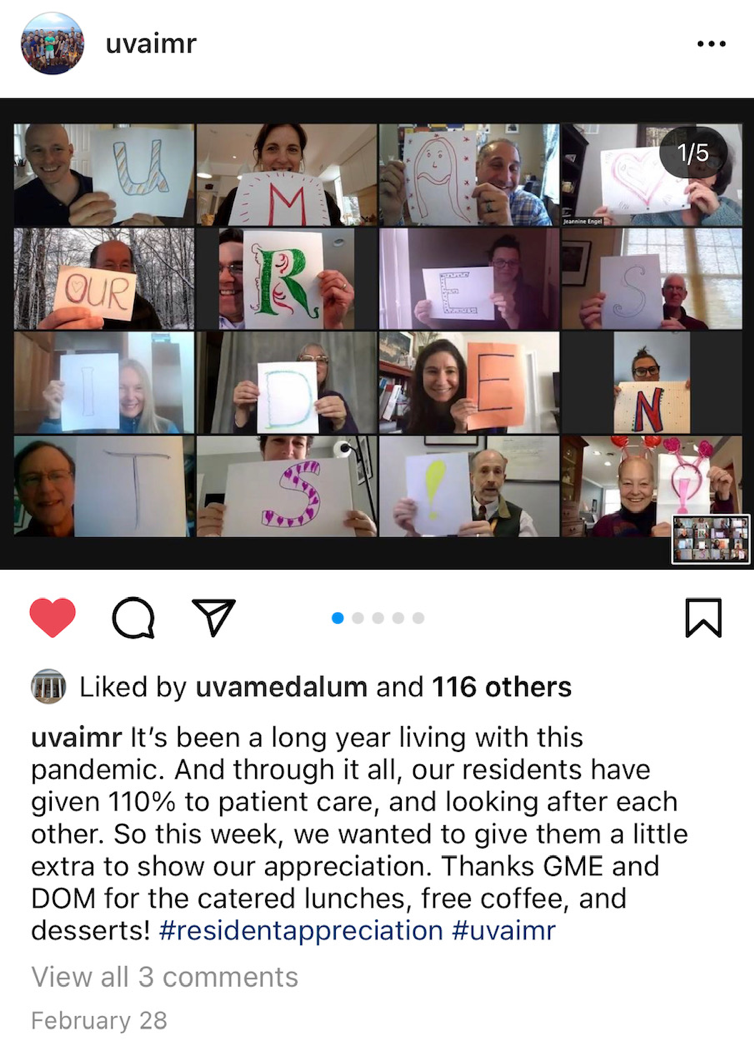 Instagram 101
Refer to Social Media Requirements & Best Practices for general tips.
Instagram works well for departments/clinics that:
Want to reach a younger audience

Have more visual, creative content to share

Want to share more everyday life or behind-the-scenes messages
Instagram Audience
Instagram demographics

1 billion users; 500 million active every day

71% of Americans ages 18-24 use this network

Get familiar with your Insights to understand your audience and posts better.
Content
Share your posts to IG Stories as well to reach more people. Use stickers like tap here, follow me, etc.

Instagram Live Q&As, IGTV videos, or Reels are a great and fun way to connect with your audience.

Hashtags: Use 10-15 per post. Stories can't have more than 10. Use UVA-specific ones: #UVA, #uvahealth, #charlottesville, #uvachildrens

Put keywords (example, healthcare or neurology, etc.) in your bio to help new followers find you in search.

Instagram tends to be more a feel-good platform. Most audiences respond better to happy moments such as patient stories, awards, highlighting team members, etc.

Play with your grid — the grid view is the first thing followers see when they access your account. Coordinating posts make the grid look nicer (example, a photo, a text block, then a photo again).

If someone tags you, consider using a repost app to share the content on your feed and give credit to the original owner. User-generated content is great for engagement.

IG takeovers are popular, where you give someone access to your account to post/share for a day (more user-generated content). You could work with someone to schedule their posts instead of sharing account information.

Emojis are very popular on IG, but keep them professional.