UVA Children's Fonts
Belizio is the approved font family for all UVA Children's communications. In most cases, bold or medium weights should be used for headlines, while the regular weight is normally used for subheads and body copy. Italic can be used to reference publications and book titles. Type should always be in UVA Children's medium blue, gray or white in 4-color applications.
The consistent use of Belizio will help establish UVA Children's typography as a recognizable brand identity element while reinforcing a unified appearance throughout our communication materials.
Headlines

Subheads

Body Copy

Georgia may be used as a substitute for Belizio in non-design programs or applications, such as Microsoft Word and PowerPoint®. Georgia is the preferred text font for use in office form templates.
Type Styling
Point Size
In most cases, body copy size is set as Belizio Regular 9 over 15. This is based on a typical 8.5 x 11 or 4 x 9 rack card communications piece. Point sizes will change accordingly as materials are scaled up or down.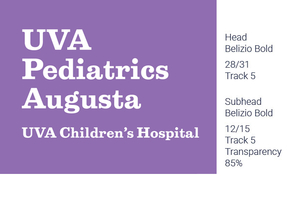 Tracking Guidelines
As font size increases tracking should be adjusted accordingly. Use these examples as a guide. See information here about kerning adjustments.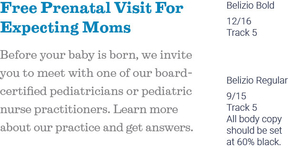 Word Spacing
The font Belizio has very open word spacing and needs to be adjusted to adhere to the brand guidelines. These settings will tighten word spacing to its proper approved setting.
In InDesign go to (Paragraph > Justification) and set parameters to the settings seen here.